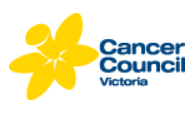 "
thankQ CRM

is the single source of truth for all interactions with our supporters."

Every year more than 30,500 Victorians will be diagnosed with cancer, and nearly 11,000 will die from cancer.

The Cancer Council Victoria (CCV) was established in 1936 and has developed an international reputation for innovative in cancer research, prevention and support. As an independent, not-for-profit organisation, they play a leading role in reducing the impact of cancers on all people.
Selection Date: February 2016
Go Live Date: August 2016
After a 6 month, implementation project, the Cancer Council of Victoria (CCV) recently went live with their thankQ CRM solution for their fundraising, events, merchandise and case management. The thankQ CRM system represents a game changer for CCV as it represents the single source of truth about any of the business' activities. Further it includes a number of new exciting initiatives, such as Automation, Affinity Tracking and the inclusion a centralised and standardised data import process so that all external websites and applications can communicate with thankQ as a single point of control for simplified de-duplication and validation; reinforcing the objective of achieving a single source of truth for all interactions with our supporters. The thankQ Automation features allow CCV to streamline payment processing, receipting, SMS and email communications as well as automated reporting.
System Overview
The thankQ system at CCV consists of 75 user thankQ Full licences on a concurrent basis. The system is hosted in-house by CCV, and was completed on time and on budget. Scott Druery – Business Development Director for thankQ Solutions commented "This is a testament to the dedicated staff of thankQ Solutions across programming, design, consulting, training, implementation and project management working in co-operation with their customer to deliver this outstanding CRM project solution".
Other Vendors Considered
During the selection process, all vendors were initially considered.  thankQ CRM from thankQ Solutions, was the final system chosen by way of initial tender. thankQ Solutions formed a business partnering approach, and then by specific scoping workshops with thankQ consultants and CCV staff, forged a proof of concept and statement of works to be performed.  The project teams were defined at all levels and regular meetings held between all staff on both sides committed as one to the project. Escalation of issues as appropriate between the various levels with each accountable, ensured the project was kept on track and delivered on time and as expected. The partnership is now set for long-term development and support of the system together in the years ahead.
Primary Reasons for choosing a thankQ system
Primary Reasons for choosing a thankQ systemthankQ CRM, being locally developed and supported by thankQ Solutions Pty Ltd, allows the freedom to obtain a dedicated CRM built for Not-For-Profits and very much an out-of-the-box solution with the added benefit of developing sophisticated enhancements needed. thankQ Solutions develops these solutions and adds them to the CRM product roadmap for the benefit of all customers. All customers can truly achieve a single source of truth within their organisations allowing them to make informed business decisions.
In support of the single source of truth statement above from Andrew Buchanan, Head of Fundraising and Communications at CCV, Megan Potter (Head of Events at CCV) commented
"
… if it isn't in thankQ CRM, it didn't happen…

"

This single source of truth concept is crucial to all companies' ongoing business success, and underpins all thankQ CRM development design.
Project Approach
At project kick-off, a structured Implementation Checklist is developed with a thankQ consultant. This is a part of every thankQ project and leads to a very clear understanding of configuration and setup values recommended within the thankQ system. This implementation checklist is reviewed and ensures the system configuration has been set as planned. This is very useful as we recognise a customer often has to manage their own projects on top of your existing day-to-day job.
Project updates are weekly by the Project Manager at thankQ Solutions, and you also have the ability to lookup your project status so it is clear what each item of the project is waiting on. Sometimes the project is waiting on customer input and the WRIKE project management system allows you to see this easily. No confusion exists as to what stage the project has reached. Your assigned Project Manager at thankQ Solutions, also issues prompts and reports regularly to keep the project moving when waiting on actions from any staff. We are aware of the project load at peak times when your charity events and fundraising take precedence over the deployment of the new system.
This regular checking in, asking and answering lots of questions, ensures the system and data transfer checking is as thorough as it can be. thankQ Solutions employs data experts familiar with the necessary field mapping and transfer knowledge of existing systems to thankQ, to make your thankQ CRM system as efficient and effective as possible.
Hand-holding by a thankQ trainer to ensure each department is actively using the system
Future Plans
Capture of all organisation-wide data and from all departments to a central thankQ CRM is crucial to the ongoing success of any system. The data captured from one department can be instrumental in the success of the other departments activities and goals. This concept is known as the Single Source of Truth – no duplication or confusion of data from differing sources.
To assist your organisation with data capture and the single source of truth, clinics onsite are offered, with hand-holding by a thankQ trainer to ensure each department is actively using the system. New staff should attend Essentials training at thankQ Solutions North Sydney office where they can share experiences with other NFP's on the same course. This broadens the training approach and enthusiasm for using thankQ CRM. Each of the thankQ software modules has a purpose built training course manual with review exercises for each student to take home. A training guarantee is offered such that any staff who attend, can re-do the training course free of charge during the next 12 months as a free refresher.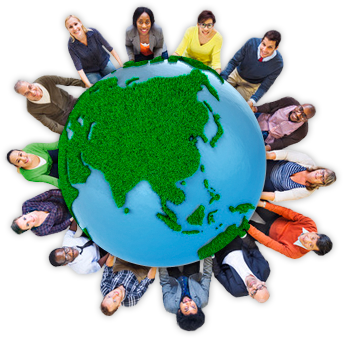 Single Source of Truth – what is it?
Many people comment, yes we've heard that before "Single Source of Truth" but why is this so important and different with thankQ CRM? The answer is simple: Your business can only be efficient and effective when there is no room for error – all data must be consistent and trusted, and all staff must be empowered to do their jobs – not just for themselves, but for the good of the company organisation-wide.
"
The data captured from one department can be instrumental in the success of the other departments' activities and goals

"

Jason Haigh
technical architect thankQ solutions