Contact and Relationship
Ease of Use
Managing contacts and their relationships is at the core of the thankQ software. It has been designed for ease of use while still containing all the detail needed for your CRM needs.
The entire contact profile is accessible from the same form, including for example, communication or donation histories. Different levels of access mean that different 'types' of contact can be made available to different users. Icons are used as quick visual indicators for specific attributes such as 'do not mail' indicators.
Contacts can be managed in groups as either a static list or based on a search, for example all those who fall within a given profile. Unlimited categories can be set up by the user to meet the changing needs of the database.
Contact Form Features
Supporter and Contact Profiles

Relationship Management

Full Communication History

IPost Code Look Up Interfaces

Links to Legacy, Pledges

Mailing Preferences

Unlimited, user-definable categories

Display of photos, document management

Relationship Management
thankQ uses a graphical interface similar to Windows Explorer to display the Relationship Tree (see image below), a simple interface giving a quick overview of a contact.
Additional information, people or organisations can be dragged onto the tree to build a detailed profile of the contact. This association of contacts and information allows the relationship you have with a supporter to be shared across your organisation.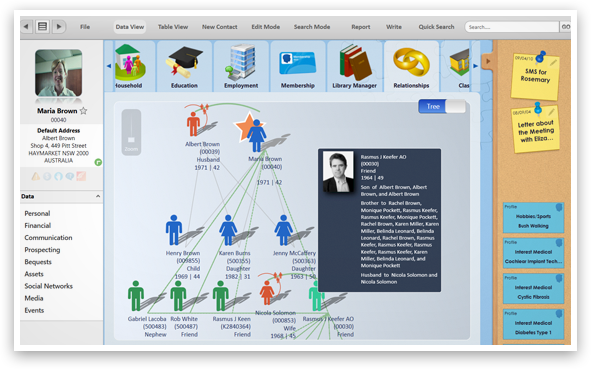 Mailing Preferences
thankQ allows separate Mailing Preferences to be configured so different types of mailings can use different addresses or salutations. The software will determine the correct address, avoid duplication and never mails anybody who has been marked accordingly.
Searching and Reporting
thankQ allows the user to search across all fields and any combination of them, then save the search to be used again in the future. This means combinations of personal, financial or communication information can be searched at the same time.
thankQ's ease of use means that constructing or running a search takes no longer than a few seconds. The information can then be reported to a choice of familiar formats including Microsoft Word, Excel or Access.