As You Want It To Be
The Events module allows you to configure your event on the system so that it appears exactly as you want to see it. An event can be subdivided into a hierarchy of sessions, for example, representing each day or specific seminars. Against each session maximum and minimum quantities of attendees can be set.
Structures such as dining tables, seating plans or hotel room layouts can be defined and each attendee placed against the appropriate item, alongside any other resources or costs that are identified.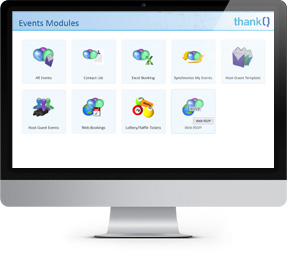 Features
Structure Event into Hierarchy of Sessions

Delegate Lists and Name Badges

Track Costs and Resources

Set Actions on Organisers

Record Sponsorship

Manage Income

Track Bookings

Bookings and Allocation

Action Manager
The Action Manager module, integrated with all the modules within thankQ, sits neatly into the Event Structure. As tasks associated with the organisation of an event are identified, they can be assigned to a user of the system, who will see a task list of their actions, be prompted with a deadline date and reminded when they become overdue.
The actions can also be viewed in the Event Relationship Tree so that the event administrator can easily track them.
Reporting
In addition to the normal user-defined searching and reporting options available within thankQ specific options are included in the Events module to produce summaries including:
Delegate Lists

Name Badges

Meal Requirements

Overdue Payment Letters

Confirmation Letters

Tickets